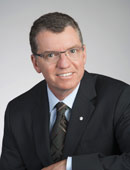 Message from President David H. Turpin
It gives me great pleasure to send my sincere congratulations on the occasion of the 30th Anniversary of the Charter Management Association (CMA).
... the Association in its mission to provide professional education and training of the highest standards. The cultivation and training of professionals for the responsibilities of management and leadership is vital; both the CMA and the University of Victoria share a commitment to providing quality educational opportunities that help students realize their full potential.
On behalf of the University of Victoria, I wish the CMA continued success in its mission to offer outstanding professional development programs to the citizens of Hong Kong.

Dr. David H. Turpin, CM, PhD, FRSC
President and Vice-Chancellor
University of Victoria (British Columbia, Canada)
17 December 2010